Surly Straggler SRAM Apex Build @Pedal Revolution New Bike Update
Surly Straggler! One of Surly's newest models takes the much loved Cross Check platform and ramps it up with disc brakes and integrated shifters. A perfect blend of new contemporary and classic proven technology, this do-it-all bike has all the modern road and "adventure" bike features like a full SRAM Apex road component group, Hayes cable actuated disc brakes, and chubby Surly Knard 70o/650 x 41 tires. Like it's sister bike the Cross Check, the Straggler has all the rack and fender mounts you could ever need to set it up for a wet weather commute or as a fully loaded touring rig. You could even slap some 28mm road slicks on it and head out on a century or a heavy road ride with the spandex crowd.
This Straggler (pictured) is the Mint colored version in a 650b wheel size. A cool new addition is the option of the 650b wheel size in the smaller frame sizes to accommodate the smaller rider and give better wheel/geometry fit and less toe overlap. The bike is also available in a Shimano 105 kit version for those Shimano-philes out there.
$1425.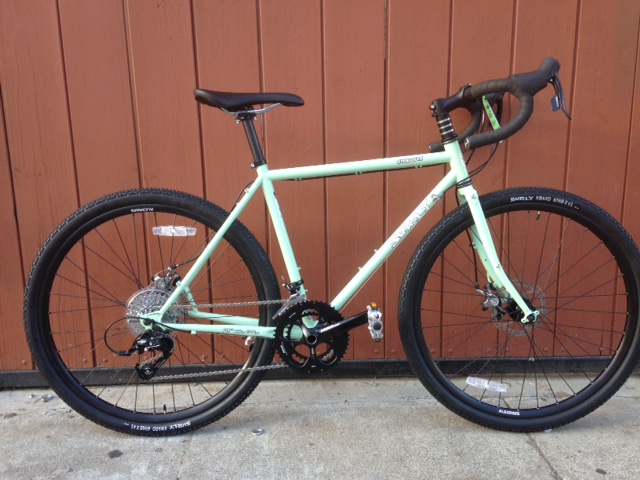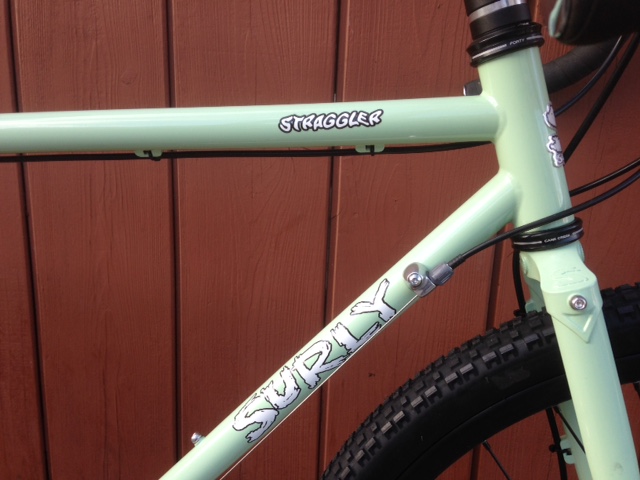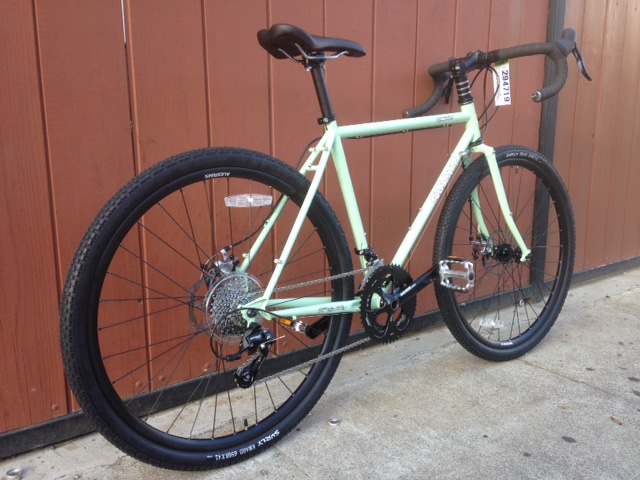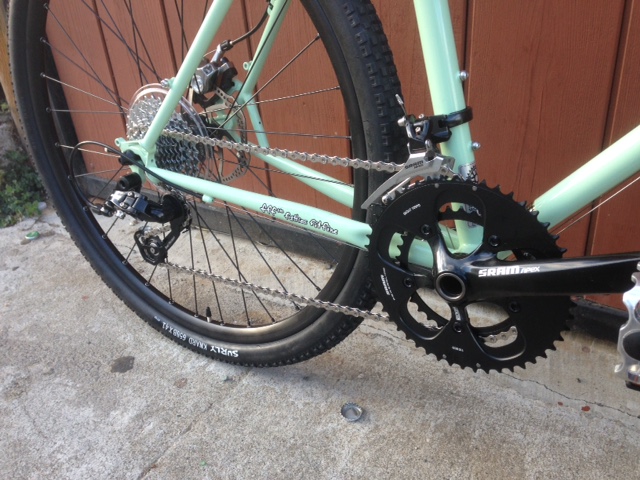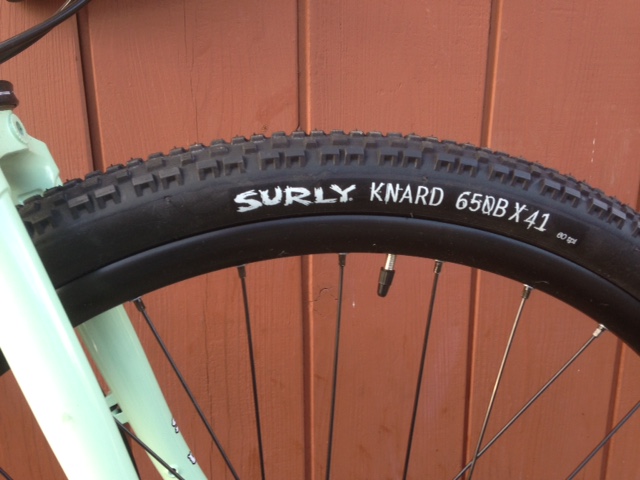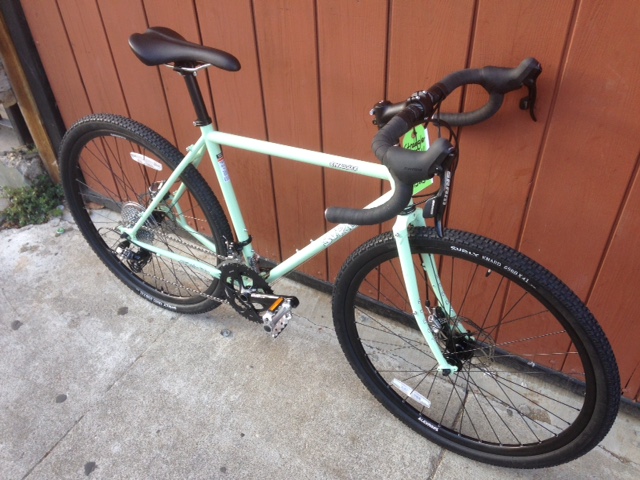 Custom Mikkelsen
The bicycle industry operates on an economy of large-scale.  This generally, at least in terms of economics, benefits most bicycle buyers.  For relatively small sums, people can purchase reliable and comfortable bikes.  Unfortunately, this scale requires that bicycles are built-in a several sizes fit most model, a tyranny of the majority that does not consider the needs of many cyclists. Essentially, mass-produced economical bikes are sized to fit people about 5′ tall to about 6'3″.  Most often folks at or beyond these fit margins end up riding poorly sized and or designed (i.e. badly handling) bikes. One approach the taller rider can take is getting a custom builder to make them a frame to suit their needs.
Bernie Mikkelsen is a local bicycle building legend of sorts and I (Joel) believe a tall guy himself.  This is the second Mikkelsen Pedal Revolution has had the honor to build in the past year. It seems that Mikkelsen, capitalizing on an industry void, somewhat specializing in building bikes for big riders.
The semi-compact frame design adds strength (less leverage in the shorter tubes) while the tall head tube extends well above the top tube to help get the handlebar nice and high (i.e. more comfortable).  This, in addition to the seamless looking fillet brazed frame (most steel bikes have T.I.G. welded seams or lugged brazed joints) are distinct features that you are just not going to see on any mass-produced bike.
In addition to owning an appropriately sized bike for the first time in his life, the owner was seeking a bike with integrated shifters and low enough gears for possible touring. The gearing was achieved via a 10-speed Shimano 105 drivetrain with triple cranks in the front and a Shimano XT rear derailleur (non-dynasys) and mountain cassette (11-36).
Shimano doesn't authorize this low-grade drivetrain hack but it works great!!!  (Pedal Rev sticks it to the man again!) The Schwalbe 35mm Kojak tires mounted to custom-built Mavic touring rims on 105 hubs provide supreme speed, smoothness, strength, and flat resistance.
Lots of excellent boutique made'n 'Merica parts complete the build: ESI silicone bar wrap, Paul (Chico Cali) polished brakes with Kool Stop (Oregon) pads, Chris King headset (artisanal C.N.C. machine micro crafted in Portland, OR) Thomson set-back seatpost (made in Georgia, the state in the Southeastern USA also famous for its peaches and the rap group Outcast) and seatpost clamp.  The bikes color scheme (paint by Champion Powder Coating – Hunters Point SF) is the same as the owner's long-time Mission (SF USA) local company.  This is a really awesome ride…