Raleigh "Sports" Brown Townie 57cm @Pedal Revolution Refurbished Bike Update
Super custom rebuild on this gem of a Raleigh frameset. A ground-up build with all parts replaced on this made in England frame including a Tange chrome fork, Sturmey Archer 3 speed internally geared wheelset, MKS touring pedals, Dual pivot brake calipers, Soma oxford bar, and leather grips and saddle. Reconfigured to give a more upright seating arrangement, this bike is a go-to city bike for daily use. Slap a basket and some fenders on it and you've got a reliable grocery getter/rain bike.
57cm fits 5'10" – 6'1″
$525. SOLD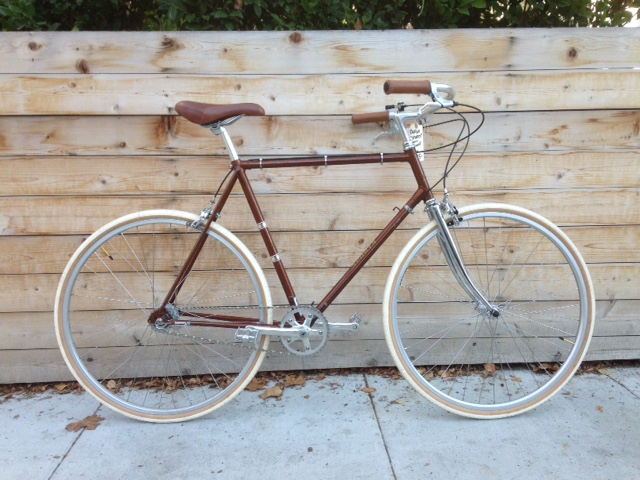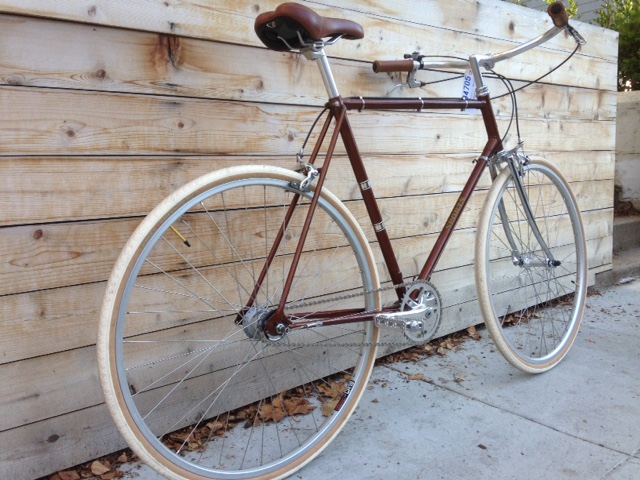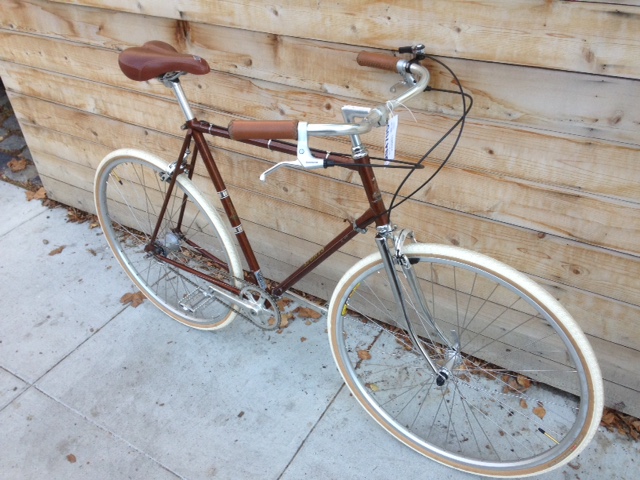 Peugeot Canyon Express All-Arounder Bike @Pedal Revolution Refurbished Bike Update
last night was the longest night of the year. The sun set at 8:54pm and to celebrate all of the extra daylight the staff at Pedal Rev decided to go for a Sub 24 hour bike camping overnight. Otherwise known as an S240, the idea is that it isn't always easy to get away for big trips, extended weekends, etc. but it's not too tough to get out for a quick overnight, sleep under the stars and make it back to work the next day, albeit a little groggy. Touring bikes are a fine choice for this type of excursion accommodating racks and bags to facilitate bringing things like camping gear, food, coffee, frisbees, whiskey, bug spray, etc. Touring bikes are wonderful things but they are costly and there are other options out there if you dream of loading up a bike and venturing forth down the road for a little nature time. Older era Mountain bikes make for great budget touring bikes with their long wheelbases, rack mounts, steel frames,and sturdy construction. These can often be found used and modified to work as workhorse commuter bikes and yes, even touring bikes.
Below is a fine example of a Pedal Revolution rebuilt Peugeot Canyon Express rigid mountain bike into a more utilitarian machine. Reinforced asphalt friendly tires matched to new wheels and a comfortable wide, upright handlebar make for steady cruising on street or dirt, in city or country. We have modified Surly Long Haul Truckers in just way for customers who preferred a more upright but still efficient ride. Come check this one out and get your ride on.
22″ fits 6'1″ – 6'4″
$400.